We would be happy to stay here again – especially now we know how to find it!
Good Points:
#Quiet and #authentic and #traditional #riad just steps away from the souk leading into Jemaa el-Fna square.
Friendly staff.
No noise at night or early morning from the streets or the nearby mosques. In fact, we didn't realise the mosque entrance was at the top of our street until we saw the door open on our second day!
We would stay again at the Dar Moulay Ali or at another nearby.
Not So Good Points:
Water pressure not very good in the shower and often went off if people in the rooms below us were using theirs.
It went off 3 times while I was washing my hair…
However, we were on the very top floor so made allowances for this, although really it shouldn't happen as the riad wasn't fully occupied during our stay.
Riad dar Moulay Ali – Google Map location.
Overall Review:
We booked a taxi transfer directly with the riad and arranged with Achmed that he would meet the taxi. We already understood it wasn't possible for cars to drive up to the door of our accommodation and that it wouldn't be so easy to find.
We knew we would have paid a little over the odds for doing it this way but it was worth it for someone to meet our taxi and walk us through the narrow streets. We paid €15 for the trip from the airport with the meet and greet in the Medina – a journey which would usually cost between €7 – €10.
There's no way would have found it on our own as it was already almost fully dark by the time we left the taxi.

Mint tea (you will come across this often, I prefer mine without sugar) was served to us on arrival while we went through the paperwork and we were provided with a map of the area which was handy.
We were given information on how much we should pay for a taxi to the railway station and advised if the driver did not accept the price to simply let him go away and stop another one.
Also it was offered by Achmed he could come shopping with us if we needed anything in particular.

Breakfast was filling although the same was served every morning – orange juice, coffee (or tea if you asked for it), bread rolls, croissants, butter, jam, omelette, 4 Moroccan pancakes and yoghurt (for 2 people).
As the weather was still cool in the early morning (we travelled in early March), breakfast was served to your table by the pool.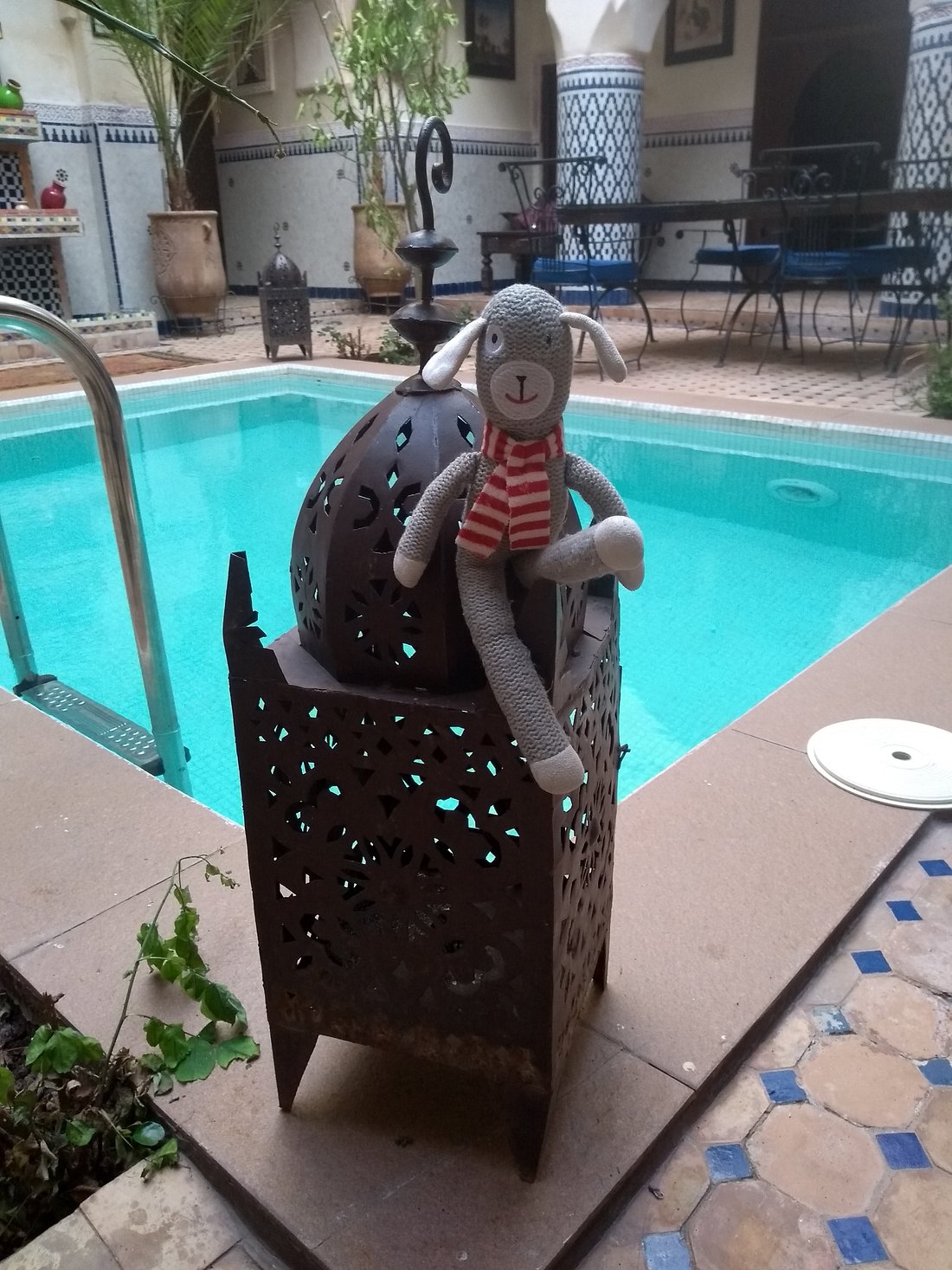 Accommodation: Our original room should have been a twin bedded room which I believe was to be situated on the ground floor. I'm never happy with being a ground floor room so I did request prior to arrival if it would be possible to be moved up a level.
We were pleased to find we were on the top floor in a long room containing 2 double beds and 2 sofas.
We did experience a few problems with the water pressure which we put down to us being at the top level of the Riad. The shower head needed to be fixed up permanently but these were small matters under the circumstances…

Moroccan beds we found are all very firm – but extremely comfortable. This same consistency followed in the other 2 places we stayed during our time in Marrakech and Essaouira. This was great for me as I like a firm mattress!

Overall, a good stay at the Riad dar Moulay Ali – and the photos of the hotel on booking.com site looked like those I took myself during our stay.

It's a little tired and could do with a bit more TLC but the staff between them manage it very well.

The lady (Fatima) who does the cooking and the housekeeping, who I believe is Achmed's wife is lovely – always smiling and is delighted if you can converse a little with her in French too!

There is no bar and no alcoholic drinks but I did check directly with the Riad via Booking.com and was informed you can bring your own and drink in your room, should you wish to.

We would be happy to stay here again – especially now we know how to find it!
Read also about Planning Our Morocco Trip and how we put it all together.
More accommodation reviews from our stay in Marrakech and Essaouira on the Atlantic Coast will follow soon.